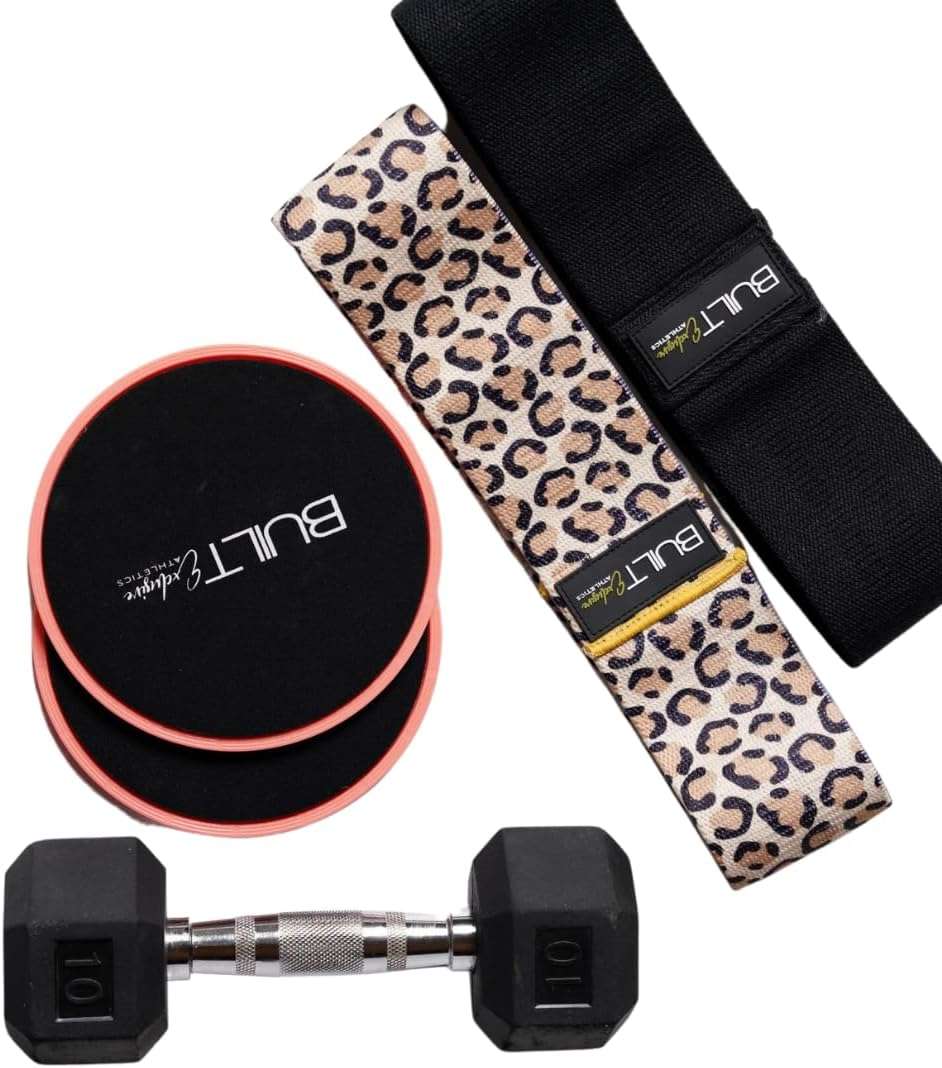 In today's busy world, finding time to hit the gym can be a challenge. However, with the right workout equipment, you can stay fit and active in the comfort of your own home. One such versatile and effective fitness tool is the set of resistance bands and core sliders. In this blog post, we will explore the benefits of these exercise essentials and how they can help you achieve your fitness goals. Specifically, we will focus on a set of 5 resistance bands, accompanied by 2 core sliders, all conveniently packed in a stylish pink flannel carry bag.
---
The Perfect Workout Equipment:
The resistance bands and core sliders set offers a comprehensive workout solution for both women and men. The package includes 5 resistance bands of varying thicknesses, providing different levels of resistance to accommodate your strength and fitness level. Whether you are a beginner or an advanced fitness enthusiast, these bands offer a versatile and scalable workout experience.
Durable and Long Lasting:
The exercise sliders are constructed with high-quality materials, including ABS, foam, and fiber. This sturdy design enables them to withstand a weight load of up to 400lbs, ensuring their longevity and durability. The resistance bands are also made from strong and durable raw materials, allowing them to withstand pressure over time, making them a reliable fitness companion for years to come.
Portable and Easy to Use:
One of the major advantages of this resistance bands and core sliders set is its portability. With the included flannel carry bag, you can easily take your workout equipment wherever you go. Whether you're traveling for work or simply heading to the gym, these lightweight and compact tools can fit into your messenger bag effortlessly. Additionally, the core sliders are designed to be ultra-light, weighing only 4.9 oz and measuring 7 inches in diameter, making them perfect for exercising in small spaces.
Versatile Exercises:
The combination of resistance bands and core sliders offers a wide range of exercise possibilities. You can engage in various workouts targeting different muscle groups, such as upper body, lower body, core, and even cardiovascular exercises. The core sliders, with their dual-sided functionality, are suitable for both hard floors and carpeted surfaces, providing you with flexibility and versatility in your workout routine.
Conclusion
If you're looking for an effective and convenient way to stay active and fit, the resistance bands and core sliders set is an excellent choice. With its durable construction, portability, and versatility, you can enjoy a full-body workout wherever you are. Whether you're a fitness enthusiast or a beginner looking to kickstart your fitness journey, this equipment will help you achieve your goals. Invest in this set today, and experience the numerous benefits of resistance band and core slider exercises.
Remember, consistency and dedication are key to reaching your fitness goals. So, grab your resistance bands, core sliders, and get ready to embark on a rewarding fitness journey from the comfort of your own home or even during your travels!
Take the Leap Today!
Don't let the tides of uncertainty hold you back. Visit our contact page to sign up for alerts (for upcoming cohorts/classes), request prices and stay informed about upcoming blogs and offerings. We are going to be dropping multiple mailing lists and courses soon (if we haven't already) for different interests, so stay tuned!
With Dr. Grayson Starbuck and The Healthcare Misfit®, you're not just learning – you're evolving. Choose the best hands on physical therapy mentor and anchor your aspirations. It is time to set sail towards a brighter, more informed future in PT!
General Disclaimer
Please be advised that the information provided in these blogs is based on my professional experience as a Doctor of Physical Therapy and does not constitute legal, insurance compliance, billing, or federal agency expertise advice. While I strive to provide accurate and up-to-date information, the accuracy and applicability of the content are subject to change and should not be relied upon as definitive expert guidance. Always consult with a qualified professional in the relevant field to ensure compliance and accurate advice tailored to your specific situation before making any decisions or implementing any advice.