Living with pressure sores can be incredibly challenging, affecting both mobility and comfort. However, with the innovative Ulcer Solutions Heel Keeper, you can now experience a new level of relief and enhanced mobility. Our heel protectors are designed to provide optimal comfort, allowing for longer wear without hindrance, all while promoting healing and preventing further damage. In this blog post, we will explore the features and benefits of the Ulcer Solutions Heel Keeper and how it can be a game-changer in your journey towards recovery.
Designed for Patient Comfort and Compliance:
At Ulcer Solutions, we prioritize patient satisfaction and comfort. That's why our heel protectors are thoughtfully designed to cater to the unique needs of injured patients. The lightweight and breathable construction of our heel protectors ensure that your skin remains fresh and dry, reducing the risk of additional complications. With the Ulcer Solutions Heel Keeper, you can wear the protectors for extended periods, allowing for convenient inspection of wounds and changing of dressings without any hindrance.
Pressure Sore Relief at Its Best:
The primary goal of the Ulcer Solutions Heel Keeper is to provide effective pressure sore relief. The elevated heel lifts and cradles your calf, effectively removing direct pressure from the Achilles tendon. This reduces the risk of further damage and accelerates the healing process. The contoured pillow design of the heel protector adds an extra layer of comfort, gently supporting and cushioning your sore feet. Additionally, you have the option to attach anti-twist wedges, ensuring that your leg remains securely in place throughout the day.
Superior Materials for Enhanced Support:
The Ulcer Solutions Heel Keeper is crafted from a premium polyester blend and features a 2-part injected foam cushion. This combination of materials ensures optimal support and durability, allowing you to rely on our heel protectors for long-term use. The polyester blend is soft against your skin, preventing irritation and promoting overall comfort. The injected foam cushion molds to the shape of your foot, providing a personalized fit and exceptional cushioning to alleviate pressure points effectively.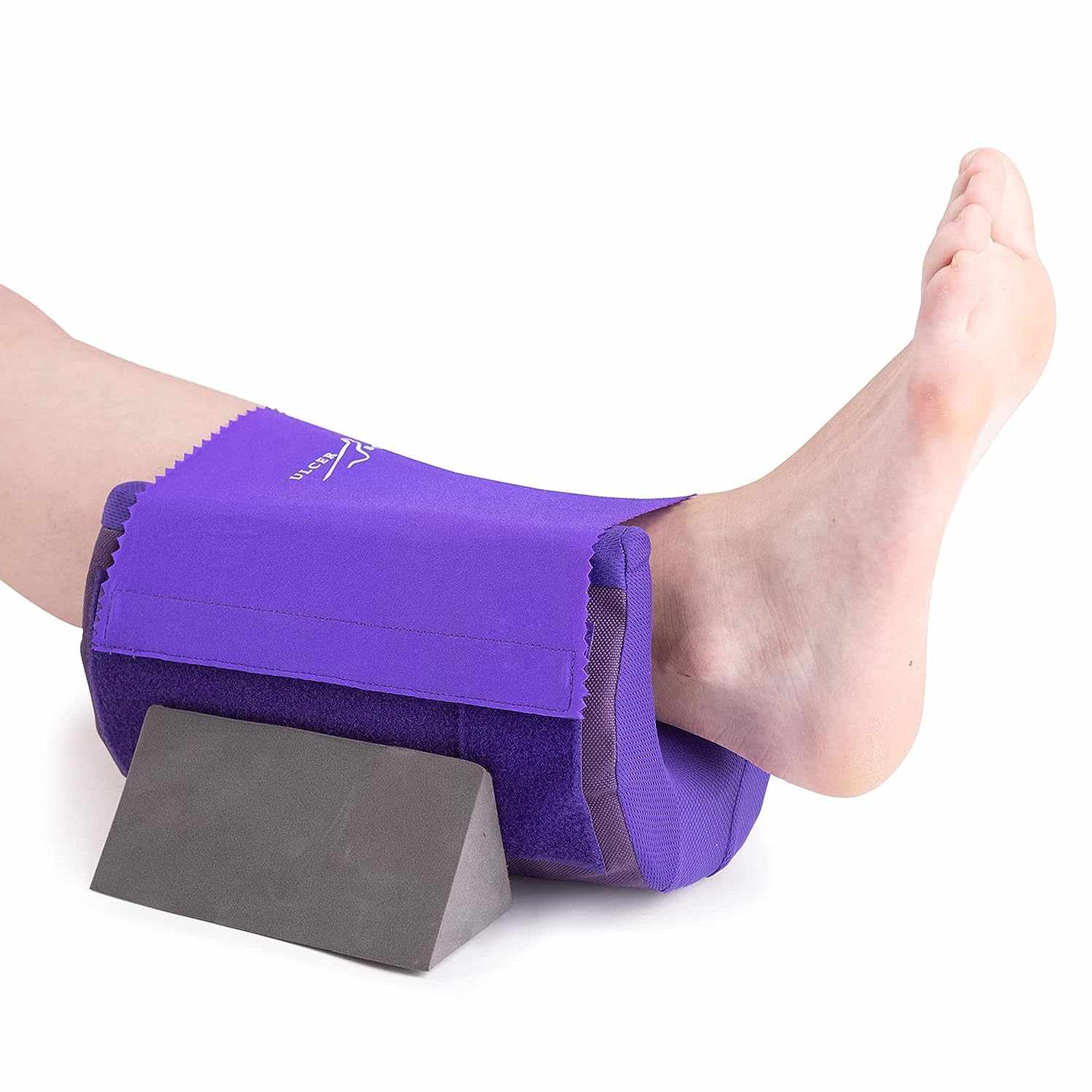 Standard Size for Easy Fit:
Finding the right size of heel protectors can be a hassle, but with the Ulcer Solutions Heel Keeper, you can put those worries aside. Our heel protectors come in a standard size that fits most individuals, with a range of 7-10.55 inches. The elastic nature of the heel protectors ensures a snug and secure fit, regardless of your foot size. This eliminates the need for complicated size measurements and allows you to focus on finding relief and comfort for your pressure sores.
Conclusion
Living with pressure sores can be a debilitating experience, but the Ulcer Solutions Heel Keeper offers a reliable solution to alleviate discomfort and promote healing. With its patient-focused design, pressure sore relief features, superior materials, and easy fit, the Ulcer Solutions Heel Keeper stands out as a top choice for individuals seeking comfort, mobility, and support during the recovery process. Invest in your well-being today and experience the transformative benefits of the Ulcer Solutions Heel Keeper. Say goodbye to discomfort and hello to a new level of relief!
.
Take the Leap Today!
Don't let the tides of uncertainty hold you back. Visit our contact page to sign up for alerts (for upcoming cohorts/classes), request prices and stay informed about upcoming blogs and offerings. We are going to be dropping multiple mailing lists and courses soon (if we haven't already) for different interests, so stay tuned!
With Dr. Grayson Starbuck and The Healthcare Misfit®, you're not just learning – you're evolving. Choose the best hands on physical therapy mentor and anchor your aspirations. It is time to set sail towards a brighter, more informed future in PT!
General Disclaimer
Please be advised that the information provided in these blogs is based on my professional experience as a Doctor of Physical Therapy and does not constitute legal, insurance compliance, billing, or federal agency expertise advice. While I strive to provide accurate and up-to-date information, the accuracy and applicability of the content are subject to change and should not be relied upon as definitive expert guidance. Always consult with a qualified professional in the relevant field to ensure compliance and accurate advice tailored to your specific situation before making any decisions or implementing any advice.