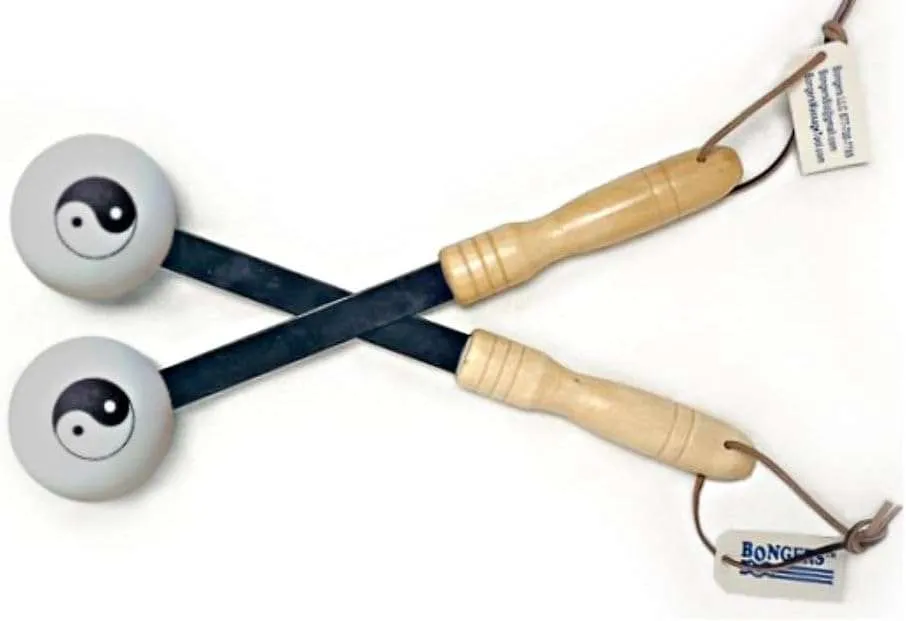 Bongers Yin Yang Percussion Trigger point Massage Tool: The Ultimate Tapping Stick for Relaxation and Muscle Relief
In today's fast-paced world, it's essential to take time for self-care and relaxation. Massage therapy is known for its numerous benefits in promoting stress relief, muscle relaxation, and overall well-being. One tool that stands out in the world of massage therapy is the Bongers Yin Yang Percussion Trigger point Massage Tool and Tapping Stick. In this blog post, we will explore the features, benefits, and functionalities of this unique massage tool. With its longer handle, adjustable strap, ergonomic design, and soft massaging ball, the Bongers Yin Yang Percussion Massage Tool offers a holistic approach to relaxation and muscle relief. Get ready to discover how this versatile tool can transform your self-care routine.
Longer Handle for Enhanced Reach
The Bongers Yin Yang Percussion point Trigger Massage Tool features a longer handle, allowing you to reach more places on your body with ease. Whether you're targeting hard-to-reach areas on your back or working on specific muscle groups, the longer handle ensures that you can apply pressure and massage comfortably. With its extended reach, the Bongers Trigger point Massage Tool offers versatility and convenience in your self-massage routine.
Adjustable Strap for Hanging and Wearing
To add to its versatility, the Bongers Massage Tool comes with an adjustable strap. This feature allows you to hang the Bongers for easy storage or wear them around your wrist during your massage session. The adjustable strap ensures a secure fit, giving you the freedom to move and use the tool without worrying about dropping it. Whether you're traveling, visiting the gym, or simply taking a break at home, you can conveniently carry the Bongers with you and enjoy a relaxing massage whenever you need it.
Ergonomic Design for Improved Grip
The Bongers Yin Yang Percussion Massage Tool is designed with an ergonomic handle that reduces hand fatigue and improves grip. The handle is carefully crafted to fit comfortably in your hand, allowing for a firm and controlled grip during your massage. This ergonomic design not only enhances your overall massage experience but also ensures that you can apply the desired pressure without straining your hand muscles. With the Bongers Massage Tool, you can enjoy a soothing massage without compromising on comfort.
Soft Massaging Ball for Gentle Muscle Relief
The Bongers Massage Tool is equipped with a slightly softer ball, making it ideal for massaging sore muscles with ease. The softness of the ball provides a gentle yet effective approach to muscle relief, allowing you to target specific areas and alleviate tension and discomfort. Whether you're dealing with post-workout muscle soreness or everyday muscle stiffness, the Bongers Massage Tool offers a soothing and relaxing massage experience.
Yin Yang Stamp for Symbolic Touch
Adding a symbolic touch to the massage tool, the Bongers Yin Yang Percussion Massage Tool features a Yin Yang stamp on the balls. The Yin Yang symbol represents balance and harmony, reminding you to find a sense of equilibrium in your self-care routine. This symbolic touch adds an element of mindfulness and spiritual connection to your massage experience, further enhancing the overall relaxation and rejuvenation process.
Conclusion
The Bongers Yin Yang Percussion Massage Tool and Tapping Stick offer a unique and holistic approach to relaxation, muscle relief, and self-care. With its longer handle, adjustable strap, ergonomic design, soft massaging ball, and Yin Yang stamp, this tool is a must-have for anyone seeking a rejuvenating massage experience. Whether you're looking to release muscle tension, promote relaxation, or simply take time for yourself, the Bongers Massage Tool provides a convenient and effective solution. Incorporate the Bongers into your self-care routine and discover the benefits of this versatile tool. Embrace the balance and harmony represented by the Yin Yang symbol and let the Bongers Yin Yang Percussion Massage Tool guide you on a journey of physical and mental well-being.
.
Take the Leap Today!
Don't let the tides of uncertainty hold you back. Visit our contact page to sign up for alerts (for upcoming cohorts/classes), request prices and stay informed about upcoming blogs and offerings. We are going to be dropping multiple mailing lists and courses soon (if we haven't already) for different interests, so stay tuned!
With Dr. Grayson Starbuck and The Healthcare Misfit®, you're not just learning – you're evolving. Choose the best hands on physical therapy mentor and anchor your aspirations. It is time to set sail towards a brighter, more informed future in PT!
General Disclaimer
Please be advised that the information provided in these blogs is based on my professional experience as a Doctor of Physical Therapy and does not constitute legal, insurance compliance, billing, or federal agency expertise advice. While I strive to provide accurate and up-to-date information, the accuracy and applicability of the content are subject to change and should not be relied upon as definitive expert guidance. Always consult with a qualified professional in the relevant field to ensure compliance and accurate advice tailored to your specific situation before making any decisions or implementing any advice.